I'm sure I am not alone in this writing world when I say that I'm not a fan of having to get involved in the marketing of my books. In fact, I would give a lot to be able to hand that task over to someone else. I am a person who likes to have some control in the things I do, this is a reason why I love being an indie author, but I find the marketing world a confusing one. Someone on Facebook recently described trying to run a successful book promo like throwing darts in the dark and I'm inclined to agree. I've been struggling with setting promotions up recently and wading through the bewildering array of promotion opportunities is enough to make your head spin.
Perhaps I should clarify this a little because I understand the concept of spreading the word in as many different ways as your time, and energy, will allow in order to reach as wide an audience as possible. However, it's the plethora of advice available over which routes to take, which sites to sign up to, which sites to give your shiny pound/dollar to if you get granted the opportunity, of course, to be accepted onto their site in the first place that's hard to decipher.
I must however give a huge round of applause to the indie world out there who being endlessly generous and supportive of each other think nothing of having a decent sales spike after a promo and then willingly tell everyone how they achieved it.
Rather unusually, but please indulge me, I'm going to use a football (soccer) analogy here because seeing authors leaping onto the bandwagon of 'the next big thing' I'm reminded of watching my son play when he was an 8-year-old when he and his team moved as one, huddled around the ball which attracted them as if it had magnetic powers and much as a laser does to a tumble of kittens (see YouTube for examples).
I'm finding that this is happening to me. I start out reasonably focused on the marketing tasks I'm planning, I pop onto the internet to, you know…tweet…and all that then before I know it I spot a blog post discussing how someone shifted goodness knows how many gazillion copies of their book in a day which, obviously, sounds like a great idea and I will be derailed. This happened to me last Sunday when I ended up setting up an Amazon Giveaway for a couple of paperbacks of my first book. It wasn't planned and I really need to stop these spur of the moment, and distracting, decisions.
What it comes down to is that we are all after the next shiny thing. The latest, and greatest, marketing whatever that has worked for someone and will also give us some, hopefully, spectacular results. I guess I should make up a proper marketing plan. Now, I just need to know what one of those looks like…I'll pop onto Google to try and find out… it won't take a moment. 😉
ABOUT GEORGIA ROSE
Georgia's background in countryside living, riding, instructing and working with horses has provided the knowledge needed for some of her storylines; the others are a product of her overactive imagination! Her busy life is set in a tranquil part of rural Cambridgeshire where she lives with her much neglected family of a husband, two grown up children and two dogs.
CATCH GEORGIA'S Thicker Than Water WHILE IT'S ON SALE!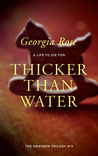 CONNECT WITH GEORGIA ROSE
Website and Blog:- http://www.georgiarosebooks.com/
Twitter:- @GeorgiaRoseBook
Facebook:-Facebook