A young woman's hard-won future with her new husband is threatened by an enemy from her past.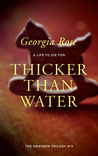 Thicker than Water
All of the characters we've come to love from The Grayson Trilogy are back as author Georgia Rose sets them off on new paths and also resolves longstanding mysteries. Rose gives us a meaty plot set firmly in Emma's point of view, which allows us to experience events as if we're there living through them. Departing from past installments, though, THICKER THAN WATER features a secondary POV, one which pops up at the most unexpected times and offers a tantalizing hint of rough waters ahead for our friends at the manor. I love how ambiguous this personality is at first. There's a darkness surrounding him, sure, but his intentions are not quite clear. When he does step into the light, not only does the game between Emma and her enemies turn on its head, but a slew of questions dangling from the previous novels are suddenly answered. Yet even these filled-in blanks don't lead to closure for Emma. Instead they free a deluge of pent-up emotions that are almost as big an obstacle to her happiness as the gang of Russian criminals out to kill her.
The other side of the close focus on Emma's POV is that we can get caught up in her day-to-day activities to the point that the pacing of the narrative slows. I think it took a little too long for the suspense/danger element of this episode to come into play, but in return we do get plenty of deep character development. Plot vs. character is always a difficult battle. Throughout The Grayson Trilogy Georgia Rose shows a knack for this balancing act.
THICKER THAN WATER delivers the romance, suspense and, especially, the final satisfaction readers of this series pine for.